Yesterday (Sunday) morning at 6am I woke to my alarm and apprehensively prepared for the Ride 100 London-Surrey event. A few hours later I saw Ant, a fellow MapAction volunteer, at the meeting area before the start. 24,000 riders meant that there were a number of waves of 500 (48 I guess!?). Unfortunately I was on my own in a wave, whilst Ant and Luke were in a wave together. We agreed we would meet at the end, given the rubbish weather! Ant and I had bin bags on which seemed to keep the rain off for a while at least! We also learned at the start that the route had been shortened by 14 miles because of the weather conditions – this meant 2 things:
1. Box Hill and Leith Hill were removed from the route meaning no big hill climbs!

2. I couldn't try to compete with a friend's time – he had clocked 5:56 last year
At 0830 hrs I set off down the A13 in the driving rain. Cycling through the streets on London was great fun as there were no cars around! (all the streets on the route were closed off for the event). What struck me was the number of punctures I saw – I guess as a result of the wet weather and debris etc. By the time we got to Richmond park the rain was at it's heaviest, with a few centimetres of water on the road. Worst was to come as a cycle-jam in the park meant we were stood on our bikes in the torrential rain for 30mins! (we learnt later that someone had fallen off their bike face first which had caused a long backlog of cyclists – I hope they were ok!). In the park I got chatting to a Geordie called Simon who was an amiable chap (and it turned out cycled at a similar pace to me)! We kept pace with each other for the last 60 miles! There were a few times when I was completely knackered so it was great to have someone to try to keep up with!
The highlight (apart from finishing!) was seeing Matt and Chloe from MapAction on Wimbledon Hill cheering us on in the first moment of proper sunshine!
I finished in 5 hrs 41 mins which was ok I suppose given that we were cycling into 20-30mph headwinds at times (the remnants of Hurricane Bertha) and not to mention the massive amounts of rain! And we had a 30 minute plus wait in the rain in Richmond Park. (next time I'll take a proper stopwatch / timer / GPS with me!). Excuses, excuses!…
After we finished, another downpour came and I went to meet my wife and daughter, before we caught up with Matt and Chloe and we met Ant and Luke too. And then the sun came out (as you can see!).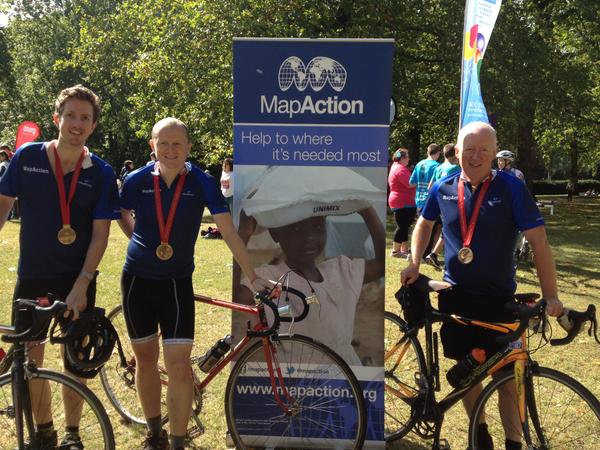 Later on we were lucky enough to be invited to the H2 Bike Run Soho for a shower and massage (insert joke about a massage in Soho here!). After eating some delicious chicken jambalaya we each had a back or leg massage from the masseurs – which was fantastic! Thank you all!
All in all it was a great day and I'd love to do it again. I just need to clear that with wife and daughter!…(oh and hope I get through the ballot next time!).
If you'd like to sponsor us, please go to http://uk.virginmoneygiving.com/team/MapActionRideLondon2014
Thank you!